Sending Your First Message (Desktop Edition)
ExcelSend is available in two versions: the desktop version and the web version. Please note that software is not required to run the web version, which is available on any device. Please take a look at this video walkthrough of the Desktop Edition to see how ExcelSend can benefit your business today! If you prefer, you can find a text version below the video.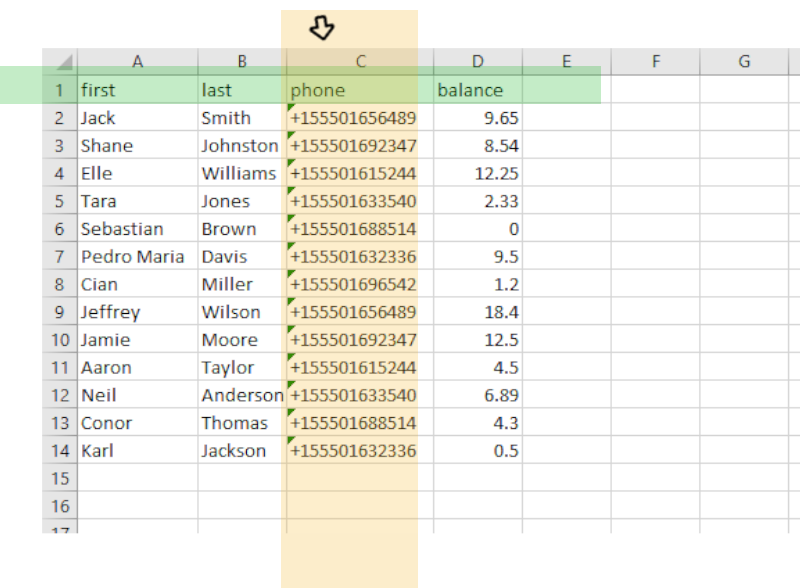 The Spreadsheet
To send your first message using the Desktop Edition of ExcelSend, the first step is to create a spreadsheet file in Microsoft Excel or Google Sheets. The only mandatory field is the cell phone field. Other fields are optional and can be used to customize each message. Don't worry if you have data there that won't be used. ExcelSend will ignore it. Once the spreadsheet is ready, it's important to close out of Microsoft Excel or Google Sheets.
ExcelSend for Windows
Next, run ExcelSend and use it to open the same spreadsheet file. You will see a preview of each sheet in the spreadsheet. Simply click the name of the sheet you want to use. You will see a summary of the cells and a count of rows and columns. The rows indicate how many text messages will be sent.

By clicking the 'Text Message' tab, you can type in your first text message in the box provided. To include a merge field from the spreadsheet, simply click the 'Merge-field' drop-down and select the field you'd like to insert.

In the 'Options' section, ensure the 'Field with the phone number' control is showing the correct field name – that's the column in your sheet that contains the cell phone number.

Now click the 'Create Preview' button. This will merge the text message with the data from your spreadsheet and will show you a preview of each message.

Click 'Send Message.' You will be given a unique job number which you can use to get performance information on the ExcelSend web portal.

Download From Microsoft Store